03335671497 Hse, Safety Officer, Iosh Osha, Nebosh, Icertosh Courses in Pakistan - Rawalpindi
Thursday, 14 May 2015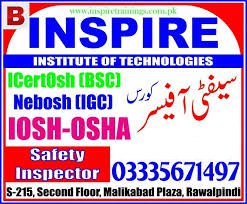 Contacts
Asad Shahzad
03335671497
Item description
Inspire Institute of Technologies Pakistan is a Professional organization established in 2013, affiliated with SDA, SDC, TTB Government of Pakistan.

IIT also have affiliations from International Bodies like ISO, Nebosh, Icertosh etc. We are providing education regarding almost every field of Technical Courses, like HSE, IT,

ENGINEERING, MANAGEMENT etc. The vision of IIT is: establishing unique identity by development of high quality human and knowledge resources in diverse areas of technologies to meet local, national, and global economic and social need and human society at large in self-sustained manner. "

The mission of IIT is to train and transform young men and women into responsible thinking engineers, technologists and scientists, to motivate them to attain professional excellence and to inspire them to proactively engage themselves for the betterment of the society.

The field of Health & Safety Management provides a glorious opportunity for a marvelous future worldwide. Those who aim to glow on the horizon of enviable success, feel free to contact us. We, at Inspire Institute Of Technologies - IIT Pakistan offer ICERTOSH, NEBOSH, IOSH, OSHA, IADC RIG PASS, TQM, QC, QA, DISASTER MANAGEMENT, INTERIOR DESIGNING, SAFETY OFFICER, CIVIL & QUANTITY SURVEYOR, WEB DEVELOPMENT, AUTOCAD etc, courses to help you open professional doors for you globally.
HSE Engineering diploma
NEBOSH IGC
IOSH MS
Fire Safety Diploma
OSHA
Oil and Gas Safety Diploma
rig Pass Safety
IWCF, IADC Certificate
Civil Engineering/Quantity Surveyor Diploma
Civil Surveyor
Qunatinty Survery
Primavera
Ms Project
AutoCAD Advanced Diploma Courses
AutoCAD Mechinal
AutoCAD 2010
AutoCAD 2D/3D Max
IT(Information Technology) and Computer Diploma Courses
Basic Computer
Ms Office Advanced
Certificate Of Information Technology
Diploma Of Information Technology
PGD IT
Graphic Designing
A+ Hardware
Networking
WebDevelopment Diploma Courses
Visual Basic
PHP & ASP.NET
Web Development
Web Designing
Complete WebSite Development course
Java, Java Scripting
PHP &MySQL
HTML, CSS Web Design
Networking
Accounting Courses
Peachtree
Quick Books
Tally
Eagle Point
Sap ERP
Oracle Certification Diploma Course
Hotel Management and Hospitality Diploma Courses
Hotel & Management Diploma
Hospitality Management Diploma
Spoken English Diploma Courses
Spoken English Diploma Courses
IELTS & TOEFL
923315999937, 923335671497
With all kindest regards
Inspire Marketing Team
S-215, SECOND FLOOR, MALIKABAD PLAZA, MURREE ROAD
RAWALPINDI PAKISTAN.