Revit architecture and structure course in Rawalpindi - Rawalpindi
Thursday, 20 June 2019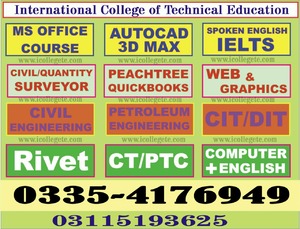 Contacts
ICTE
03115193625
Item description
Revit architecture and structure course in Rawalpindi, Revit architecture and structure course in Rawalpindi, Revit architecture and stucture is best course in Rawalpindi, islamabad.international college of technical education is best intitute for that course, admission open for boys and girls, for more detail, o3115193625.The Autodesk® Revit® software is a powerful Building Information Modeling (BIM) program that works the way architects think. The program streamlines the design process through the use of a central 3D model, where changes made in one view update across all views and on the printable sheets.This class is designed to teach you the Autodesk Revit functionality as you would work with it throughout the design process. You begin by learning about the user interface and basic drawing, editing, and viewing tools. Then you learn design development tools including how to model walls, doors, windows, floors, ceilings, stairs and more. Finally, you learn the processes that take the model to the construction documentation phase.Since building projects are extremely complex, the Autodesk Revit software is also complex. The objective of the Autodesk® Revit® 2018 Architecture: Fundamentals classe is to enable students to create full 3D architectural project models and set them up in working drawings. This student guide focuses on basic tools that the majority of users need.Autodesk Revit Architecture training prepares you to take advantage of the state-of-the-art designing technology. The aspirants will learn the sophisticated functionality of the software and the skills to utilize it according to the project requirement. Working on diversified projects will build the proficiency in the candidates to deliver high-quality designs and construction related documents using Revchitecture. The training curriculum of Revit Architecture is divided into two parts: Essential and Advance.Autodesk Revit Architecture Essential module focuses on the concepts of Building Information Modeling (BIM), providing details to the designs, and documenting the work using Revit Architecture.Autodesk Revit Architecture Advanced module explains the advance techniques used for importing/exporting.linking the files, creating conceptual designs, and establish work sharing between the peers.Autodesk Revit software works the way building designers think so they can develop high-quality accurate architectural designs. Using tools specifically built to support Building Information Modeling workflows, you can capture and analyze concepts and maintain your vision through design, documentation, and construction.Architects, draftsmen, mechanical and electrical engineers who wish to learn Autodesk new BIM technology that is based on Revit. Managers will find this easy course useful. It will help them understand this design tool in order to deal with engineers and draftsmen.Participants who take this course will be able to use Revit to design architectural and structural elements to construct buildings and houses. This course contains topics that are common to all disciplines. Participants will learn how to:
Set up new projects
Create structural elements
Draw floors, walls, curtain walls, roofs, stairs, railings, doors, windows, and ceilings
Insert BIM Objects
Use and create new materials
Create a family profile for a cornice
Annotate and dimension views
Tag elements
Add rooms, room tags, and color fill legends
Create detail views
Create section views and BOQs
Create and print sheets
Export to Excel, AutoCAD, and 3DS Max
In order to design building elements, they will often use elements from libraries supplied with the software.